$5000 Clickbooth and John Chow Twitter Contest!
Over the last year, Twitter has been an excellent tool for us in a variety of ways. It has allowed us to stay in constant contact with our clients, meet so many new people and industry professionals, listen to our community, and also educate all of our followers on all of the new and exciting things happening in the industry, as well as within our company. We are constantly exploring new ways to use Twitter, as well ways to add as much value as we can to all of our followers.
That being said, we decided to do something fun and team up with John Chow, to run a Twitter contest where we will be giving away a ton of sweet prizes which you can win just by doing three easy things.
1) Follow JohnChow
2) Follow Clickbooth
3) Send the following Tweet to your followers:
I've just entered to win a $5000 Twitter contest! Just follow @JohnChow and @clickbooth and RT. http://xr.com/twittercontest
It's that simple! Now here's how the prizes work…
Winners will have a choice of two different prizes depending on the Tier that we hit at the end of the contest. Once we hit each tier, we will give away the prize of that tier and the ones below it (e.g. If we hit 3,500 followers, we will give away the Canon HD Camcorder and an Amazon Kindle) If every tier is hit, we will give away all the prizes (4 winners).
Tier 1 – 3,000 Followers (1 winner)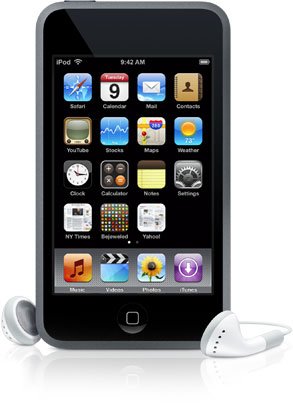 Tier 2 – 3,500 Followers (1 winner)
Tier 3 – 5,000 Followers (1 winner)
If we hit that tier, we will also be giving away either a 24" iMac or a Trip for two to Las Vegas
Tier 4 – 10,000 Followers (1 winner)
So in order for any of the prizes to be given away, we have to at least reach 3,000 followers (which shouldn't be hard considering we already have 2,600 🙂 ). If we hit 10,000 followers by the end of 2 months WE WILL GIVE AWAY ALL THE PRIZES. The winners will be drawn the first week of August and contacted via DM.
Some extra rules to know about:
Conditions on the Vegas Trip:–
Must book trip by 2/28/10
Must notify Clickbooth 60 Days prior to departure date
Blackout Dates May Apply
Trip includes Airfare for Two + Hotels (Which will be chosen by Clickbooth)
Additional Details will be sent to winners upon verification.
If you are selected as a winner, and you are currently living outside of the U.S, and we are unable to locate a company that can ship your prize to your country, we will be more than happy to send you a PayPal payment or bank wire payment that equals the value of the prize (depending on the value).
Anyone caught doing fraudulent behavior or anything else that violates our TOS, will not be eligible to win ANY of the prizes. For a complete list of all the rules and regulations for this Twitter contest, click here.
Good luck to everyone and we can't wait to start tweeting with all of our new followers! 🙂