Driving More Traffic To Your Blog By Learning From Other Bloggers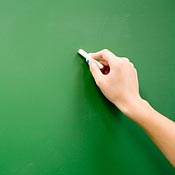 When it comes to driving more traffic to your blog, you understand that you don't have to reinvent the wheel, right? Sure it's great coming up with fresh ideas and new concepts that will help skyrocket your traffic to levels you never dreamed of (and if you've got 'em, use 'em!), but if you're just starting out , checking out what other successful bloggers are doing to drive more traffic back to their blogs is a great way to get your own ideas flowing.
Today's post highlights four examples that some of my favorite bloggers use to get more traffic to their blogs. These ideas aren't groundbreaking, nor have they been created by the bloggers themselves. Great bloggers just know they work, and thus, use them to their advantage. So without further ado, let's get into it…
#1: Interviews are MONEY. Which is why bloggers like Murray Newlands and Jonathan Volk do them so often. When someone is interviewed on a site, you can be sure they will do more than their fair share of promoting the post themselves. Whether it be posting the interview link on Twitter and Facebook, or writing a post about it on their own blog and linking back, people inherently love promoting themselves, so why would this be any different? But it is because it exposes their community to you and your blog, and in turn, helps you capture a new audience and drive more traffic.
Murray's Thoughts: Interviewing people is a great way for you to shine the light on others. If you shine a light on them, they tend to do the same in return by promoting your blog post. That builds traffic back to you. If you are lucky they will blog about it on their blog – sharing their blog audience and giving you a link back.
#2: Email Lists Aren't Just For Product Pushing. There are many bloggers out there who either haven't started an email list, or only use it to promote products (their own and others via affiliate links). Those bloggers are missing out on a great opportunity to remain engaged with their audience and drive subscribers back to their blog. A perfect example of a blogger who uses his email list really well (in my opinion) is David Risley. David stays in touch with his community via email a lot. However, what sets him apart is that he follows up every post with an email featuring a short story or related thought and ending with a question that really makes the reader want to check it out. Here is an example:
I've just published a very important blog post for you. Why do I say it's important?
Well, I've been talking to some of you lately. And looking at survey feedback…
And I see it. I see it on your blogs. And it is affecting your ability to grow your brand and your traffic.
Do you really know who you are? To find out what I'm talking about, read this:
http://www.davidrisley.com/blog-branding/
I'm a huge fan of bloggers using their email list this way and it's a shame that more of them don't take advantage of it. I know for a fact that this helps drive more traffic back to his blog because it gets me almost 100% of the time and I'm used to many of these marketing tactics! 😉
David's thoughts: I've always said that building a list is a top priority for any blogger, and the reason for that goes way beyond sales. See, without your email list, your blog is a reactionary platform. Meaning, you post and then hope people notice. When you have a list, then you are able to mobilize your audience into action and point them at things. That's a proactive stance. At the same time, getting your audience to consume your content is part and parcel of maintaining that relationship with them. So, it makes so much sense to email them and point them back to your blog. And, yeah, I typically get the largest traffic spikes and the most comments when I do that. On my blog, you can usually tell which posts I didn't bother to notify my list about because they get far fewer comments. 🙂
#3: Don't Worry About the Critics. Now some may call these types of bloggers controversial, while others just label them as REAL. Regardless of the tag you throw on them, they all have something similar in common. Whether you are their friend, enemy, acquaintance, or someone they've never met, if they have an opinion about you, your company, or product, they will let their whole community know, regardless of who has a "problem" with it.
With that said, whether or not you are for or against this type of blogging, there's no doubt that its a great way to drive a lot of traffic to your blog. Not only do people appreciate the honesty, but they also love the "controversy" it causes and feel compelled to share it with EVERYONE they know. One of the bloggers infamous for speaking his mind is none other than Barman from PPC.BZ. It doesn't matter what the topic is, or how many people he might piss off…if he has a strong opinion on an issue or topic, there is no doubt that he will let you know his stance on it. Because of that, he's been able to build up quite a large following/community around his blog (hey, you gotta respect a guy for being honest). It's important to note that you shouldn't intentionally try to be controversial or take an opposing side just to drive traffic. Rather, understand that (regardless of whether or not it's the popular opinion or may turn some heads), being honest with your community can go a long way in growing your blog's readership.
Barman's Thoughts: My blog was never meant to make money or be popular. [But] if you want to drive more traffic to your blog, post useful shit. Things people find useful are: Information on how to be a better marketer (like my recent posts about advertising books), good code (202 hacks, server optimization tips), and case studies. If you know what you're talking about, then its easier to be honest and write something useful. Being honest is pretty key. I am liking Dangerbrown.com's recent video posts cause of his honesty, even though the content isn't really useful to me in particular. [So] My advice to any up and coming bloggers- stop now and go do work. There will come a point in your life when you realize just how much time you wasted trying to please your audience when you could've been doing something useful to benefit yourself. If you must, post once or twice a month but make it epic.
#4: Get Your Guest Post On. I mention this strategy a lot and most recently in my post, 9 Tips To Help Take Your Affiliate Marketing Blog To the Next Level, and I bring it up again because it is seriously one of, if not THE best way to help you attract a new audience and generate more traffic to your blog. One blogger in particular who has seriously taken this hustle to a whole new level is Greg Rollett. Not only has Greg done some great guest posts on just about every blog in his niche, he's also a frequent contributor to a variety of blogs including WorkShifting.com and Mashable. This dude is seriously EVERYWHERE and it's for a reason – because it works.
Greg's Thoughts: The quality of traffic I receive when I guest post is higher than any other type of traffic. They subscribe to newsletters, buy products, and engage through social. I'll write a guest post any day of the week to build my brand and grow my business.
These are just a few examples of what other bloggers are doing to drive more traffic back their blogs. What other examples can you add to the mix? Any bloggers out there that we should be learning from? Feel free to talk about it in the comment section and also leave a link to their blog so we can all check it out. 🙂